Answering Machine
Telephony / Answering Machine
You can use the FRITZ!Box as an answering machine without connecting any additional devices.
Features
You can enable and disable various functions for the answering machine. If you have more than one telephone number, you can set up multiple answering machines.
Features
Different operating modes: You can specify whether the answering machine records messages or callers only hear an announcement.
Schedule: For individual days of the week you can specify the times at which the answering machine is switched on and in what operating mode.
Voice to mail: If desired, you can receive new messages automatically by email.
Remote playback: You can check the answering machine from on the go.
Memo function for voice messages
Setting Up Multiple Answering Machines
You can configure up to 5 answering machines. For each answering machine, you need a telephone number that is not assigned to any other answering machine. You cannot assign the same telephone number to multiple answering machines.
Example
You have one telephone number for personal contacts and a second telephone number for business contacts. You can set up a separate answering machine for each telephone number.
Configuring an Answering Machine
Configuration consists of two steps: Enable the first answering machine or create a new answering machine. Then you can set up your own messages, email dispatch and other functions.
Instructions: Enabling or Creating an Answering Machine
Select "Telephony / Answering Machines".
Click on "Configure Answering Machine" or "Another Answering Machine".
Specify the mode, greeting delay and recording length.

| Setting | Function |
| --- | --- |
| "Greeting only" operating mode | Callers hear a greeting |
| "Record messages" Operating Mode | Callers hear a recording and can leave messages |
| Greeting delay | How long the telephone will ring before the answering machine accepts a call |
| Recording length | How long a caller has to leave a message |

Enter a name for the answering machine.
Click on "Next".
Specify which calls the answering machine is to accept. Select one or multiple telephone numbers.

All of the telephone numbers configured under "Own Telephone Numbers" are available, as long as they have not yet been assigned to an answering machine.

Click on "Next".
Check the settings and then click on "Apply".
Instructions: Setting Up Announcements, Email Dispatch, Schedules and Remote Playback
Once you have configured an answering machine, you can set up your own messages and enable email dispatch, remote playback and a schedule:
Select "Telephony / Answering Machine".
Select an answering machine and click on the "Settings" button.
Configure the desired functions. For more information, see the Help on the settings.
Operating an Answering Machine in the User Interface
You can operate the answering machine under "Telephony / Answering Machine" in the user interface.
Operation Controls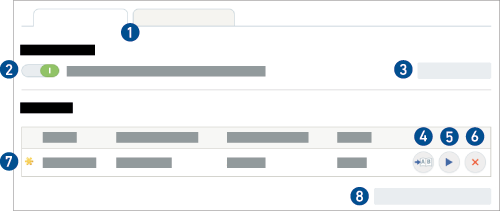 | No. | Function |
| --- | --- |
| 1 | If you have more than one answering machine configured: select an answering machine |
| 2 | Switch the answering machine on and off |
| 3 | Open the settings for editing |
| 4 | Save the caller's telephone number in the telephone book |
| 5 | Listen to and save message (right mouse click on the button and select "Save destination to...", "Save link to..." or something similar) in the context menu |
| 6 | Delete a single message |
| 7 | A yellow star designates new messages |
| 8 | Delete all messages |
Operating the Answering Machine Using the Voice Menu
The FRITZ!Box answering machine can be operated on the voice menu of connected telephones, for instance, to switch it on and off or to listen to messages. Navigate in the voice menu using the telephone keys 0 - 9 and #.
Recording Memos
With the FRITZ!Box answering machine you can record memos (voice notes), which you can listen to like messages. If desired, you can have new memos emailed to you automatically.