Making Internal Calls
Configured telephones and other configured telephony devices have internal numbers.
Using Internal Numbers
The internal numbers are located on the "Internal numbers" tab under "Telephony / Telephone Book":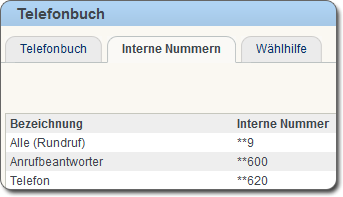 Here is how to use internal numbers:
You can make free calls between telephones connected to the FRITZ!Box. To dial an internal call, simply dial the internal number of a telephone, for instance **620.
You can operate the FRITZ!Box answering machine: When you call the internal telephone number of an integrated answering machine, for instance **600, you will reach the voice menu of the answering machine.
You can start a broadcast call: When you dial **9, all other telephones connected with the FRITZ!Box will ring. You will be connected to the telephone that picks up the call first.